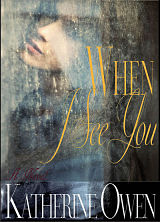 If you noticed any trends on this blog or my others, you'll soon discover that When I See You is rarely on sale. Why? It's my latest release. It's done well on the sales charts and most recently on the ChickLitPlus blog tour. It is GOOD fiction. I'm proud of it and I don't necessarily have to give it away. Now, having said all of that, I'm thrilled to announce that When I See You is on sale for the next week or so (through April 4th, 2013- midnight) as part of a promotional effort for attracting new readers as well as a celebration of sorts. (I'm almost done with This Much Is True so WISY won't be my latest release for much longer.)
When I See You has been well-received by most readers and bloggers alike, so if you've been waiting to download this one onto your Kindle or Nook or iPad or Kobo eReader, now's the time. Enjoy! And, thank you as always for reading my work.
Best,
Katherine Owen
Here's a brief overview of the storyline:
She believes that love can never last, promises are usually broken, and true happiness is extremely elusive in the long run. He believes most risks are worth taking, the promises he makes can be kept, and love doesn't factor in his relationships any longer. They're both wrong.
See more on the When I See You tab at the top of the blog.
Editorial blog review snippets for When I See You:
"…I knew going into this book that it wouldn't be a heart and flowers type of story. When I See You is emotionally charged and I felt every single moment."  The Autumn Review
"…Jordan and Brock have an inordinate amount of bad karma going on…What pulls this story out of the hellish mire it could be stuck in, is this amazing thread of almost palpable hope that winds its way through the narrative…"  Dana Burness – Let's Book It
"I love a book that touches my heart and keeps me thinking about the characters long after I have turned the last page. When I See You is exactly that kind of book."  Cheles Bells – A Belle's Tales"
When I See You is yet another brilliant romance in which Katherine Owen proves that, not only can she create excellent characters, but she can put them through the wringer and make them come out on the other side as even better characters…"   Ellen Fritz – Books4Tomorrow
Kindles Books & Tips is featuring
When I See You
. Here's the link to their post – 
http://wp.me/p2b82w-4f9
  Kindle Books & Tips has a link that works at all Amazon's sites. Check out the post! Thanks!
Related articles