Reviews for Seeing Julia
"The writing was just, no words for how beautiful the writing was…" Chelcie ~ Addicted Soul's Blog
"I found this book to be immediately captivating… The initial chapters reminded me of Maggie O'Farrell's "After You'd Gone," that's how impressed I was." Becky Gulc ~ Chick Lit Central Blog
"I recommend this novel to all who enjoy a highly emotional story that tugs at your heart strings with a main character who shows remarkable growth throughout the book. "Seeing Julia" rightly deserves its 5 stars!" Ellen Fritz ~ Books4Tomorrow Blog
"For some reason, I expected 'Seeing Julia' to be a fluffy, unreal romance novel. I don't know where I got this idea but I couldn't have been more wrong, 'Seeing Julia' is so much more. It is deep and real and full of emotion and pain and friendship and love. I can't say enough good about it." Dana Burness ~ Let's Book It
"I found this book to be immediately captivating. Yes it's a dark sad subject but I was gripped. I was instantly impressed by Katherine's writing, she conveyed the initial grief and despair at yet another loss so well, I felt this loss with her. The initial chapters reminded me of Maggie O'Farrell's "After You'd Gone," that's how impressed I was." Becky Gulc ~ Chick Lit Central Blog
PRINT VERSION (SHOWN BELOW)
"I recommend this novel to all who enjoy a highly emotional story that tugs at your heart strings with a main character who shows remarkable growth throughout the book. "Seeing Julia" rightly deserves its 5 stars!" Ellen Fritz ~ Books4Tomorrow Blog
Julia's story will stay with me for a long time. I'm a little sad that this is a stand alone book, I would like to spend more time with all of the characters involved. As it is, I look forward to reading more by Katherine Owen.  Dana – Let's Book It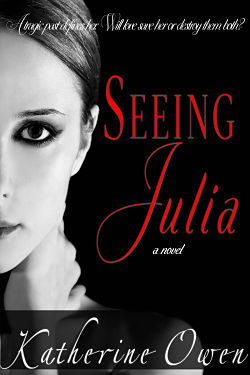 Awesome Romance Novels features Seeing Julia
Current Reads from Little Miss Lovely Times Blog includes Seeing Julia
JR Novels and best seller books reviews Seeing Julia
A Review of Seeing Julia at the Wistfulskimmies Book Reviews Blog
Chick Lit Central's Becky Gulc reviews Seeing Julia and compares 1st Chapters to Maggie O'Farrell's novel, After You'd Gone
The blog, Perfect Nostalgia, reviews Seeing Julia.
My interview with Cheryl Shireman on her blog about Seeing Julia and writing.
Books4Tomorrow just posted a 5 Star Review of Seeing Julia. Check it out: Books4Tomorrow
The Indie Blog Review features Seeing Julia.
Chick Lit Central blog interview
Let's Book It Blog reviews Seeing Julia
Exclusive WeekInRewind Interview about me, Not To Us and Seeing Julia
Indie Snippets with Bryan R. Dennis blog. A snippet of Seeing Julia
Reader reviews:
More reviews at Goodreads of Seeing Julia
Customer Reviews at Amazon for Seeing Julia

5.0 out of 5 stars I loved this book, July 4, 2011
By Clicia Tremblay –
This review is from: Seeing Julia (Kindle Edition)
This book was a precious gem. I loved it!! I love a good up and down love story and this one delivered. I am always gladly surprised to find such gems among romance books: good dialogue, smart, sensitive and funny. I wanted more of the romantic couple but I got the picture!! I look forward to reading more from this author.