Author Q & A
This section contains

SPOILERS

 about When I See You. Please read the book first and then read this section.
What Inspired You To Write When I See You?
Chapter three was a scene I wrote for one of my classes at The Writers Studio. The story evolved from that exercise and my debut novel, Seeing Julia. I wanted to explore the idea of two people coming together after experiencing the loss of someone they had both really loved, in this story, Ethan—Jordan's husband and Brock's best friend—and how the loss of him both affects and connects them. I wanted to write a story from both points of view of the two main characters, Jordan Holloway, as well as Brock Wainwright. This proved to be a complex literary challenge for me. Readers get a sense, early on, in the book how these characters feel about one another. And yet, I think When I See You stretches beyond the typical love story. The novel addresses many themes including overcoming tragic loss and finding closure, but the main one is that despite all the obstacles, love will find a way.
Can You Talk About Jordan Holloway?
Jordan is such a strong character in so many ways. She's an accomplished chef, a wonderful mother, a good friend to Ashleigh and Liz. Readers get a sense of how much she loves Ethan. Yet, there are underlying hints, early on, that she's barely hanging in there on so many levels. She's carved out a life for herself, yet it almost appears to be a survivor's kind of life. The early scenes between her and Brock reveal their attraction, but also the depths of a connection that these two don't quite understand. It's there in those first conversations between them.
Readers who have read my debut novel, Seeing Julia, may see some similarities in Jordan's character to Julia, but I think Jordan is much more complex and emotionally stronger than my first character, Julia Hamilton. When I See You started out as an early version of Seeing Julia, but then, I moved away from the concept of a soldier story with that first book. Yet, with this novel, When I See You, I wanted to further explore the idea of the wife left behind in Jordan Holloway and the life of a heroic soldier, who becomes wounded and confronts a very different life upon his return. I wanted to write about two characters who are obviously committed to another person in different ways and explore how they both would deal with tragic loss and find their way back.
I focused on writing Jordan as a true survivor and although I don't overly concentrate on Jordan's backstory, I think readers can fill it in for themselves. What Jordan Holloway has experienced in her past makes her the way she is. Her journey begins with herself in confronting her past and re-learning to put trust in someone else and their promise and ebrace new hope in the future, however different. That's a big step for Jordan. Trust proves to be everything.
I wanted to create a strong character, yet show her vulnerabilities. Yes, Jordan's an accomplished chef, but readers must ask themselves why she would choose such a career, instead of the Hollywood life she inherited from her famous parents? She likes control. She has perfectionist tendencies. She's loving and giving. She's a foodie. It's a safe choice. It doesn't let her down. It doesn't die. It was deliberate on my part to come up with a career she could pour her heart and soul into that would reap her rewards, yet, allows her to cope with all these life-changing events in an intriguing and different way.
Look closely. Her relationship with Ethan is a whirlwind. Readers can sense that in the very beginning chapters. Ethan, literally, swept her off her feet. Yet, he's gone much of the time. Her life didn't really have to change all that much to let him into it. Interesting, right? Readers learn they got married because she was pregnant. They met, got married, and Ethan left with Brock for his first tour for Afghanistan within two months of their first meeting. Jordan maintains a life in L.A. and raises their three-year-old son, Max, largely by herself, because Ethan is gone so much of the time. Yet, she keeps tracks of the number of days they've actually been together versus apart. Who does that? And, why?
Jordan and Ethan are equally focused upon building this life together that largely depends upon his return from Afghanistan for good. She's just waiting for it, waiting for it to start with his return, which, of course, doesn't ever happen. Jordan is complex. No doubt. She's one of my favorite characters. We so want things to work out for her.
Can You Talk About Brock Wainwright?
Brock is set up to be the perfect hero, but he carries some intrinsic flaws and is somewhat conflicted. He's charming, yet cavalier, selfish, a real playboy. His good looks have gotten him what he wants for a number of years without any emotional entanglements with women to tie him down. Yet, within days of meeting Jordan Holloway, readers get a glimpse of the coming changes that he will have to make within himself in order to be with her. His personal journey in coming to terms with Ethan's death, battling the guilt he feels for not saving his best friend, and overcoming the guilt he has because of his feelings for Jordan—all represent his heroic journey in overcoming his personal struggles and forging ahead with a different life then he had planned.
Yes, he's the hero, but so lost and so set upon personal destruction to a certain degree that he is easy to want, to save, and to love. Oh, yes! He and Jordan share some similarities in how emotionally closed off they both are and in the way they both suffer in silence with such tragic loss. It's very powerful. The connection between them was intriguing and that is what I wanted to explore the most with this story.
What Are Your Favorite Scenes From When I See You?
One of my favorite scenes is in chapter two, where Jordan is frosting the "Finding Nemo" cupcakes. The conversation between Jordan and Brock in this scene sets up the whole story, especially when he says, "So he kind of ignores the tortured soul that you are." I love that scene.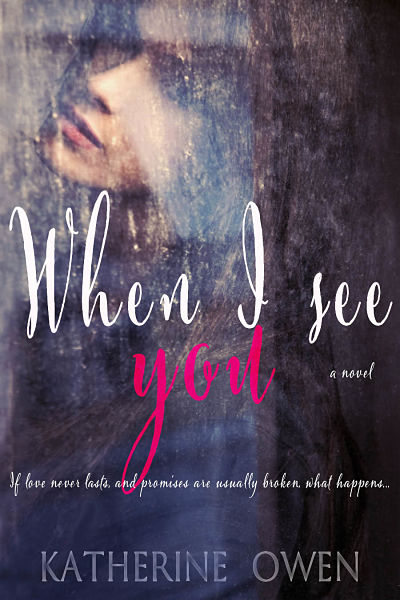 My next favorite is the one right after that where she is cutting his hair. There's a lot of subconscious wanting (subtext) in that one. What starts out as a simple favor begins to reveal the powerful connection they share. Additionally, I really enjoyed the interaction between them when Jordan first arrives in Austin, especially in chapter fourteen, with the pancake scene late at night. Writing the Porsche scene where she lets him drive his car reveals the first sign of change in Jordan in openly placing trust in another person, and she deals so well with Brock's blindness. She is always aware of him and attempts to understand his view of the world. I think these scenes really demonstrate her own strength of character, reveal Brock's vulnerabilities, and also, how much he cares about her. My absolute favorite scene is chapter eighteen with Jordan's get-out-of-jail-free card reference. The interplay between these two was so fun to write.
It was a serious challenge to write from Brock's point of view. I had to really put myself into his head and try to view the world as he saw it from both an emotional, as well as physical, standpoint. It was not an easy thing to do or write, which is probably why it took so long to finish this novel.
What Is Your Writing Process? Where Do You Get Your Ideas?
I don't do outlines. I don't know where the story is going to go when I first start writing it. The characters, literally, take me there, on a journey. They visit me at night, or when I'm doing the dishes, or driving my car. I see scenes in my head and try to write them down when the inspiration comes to me. Sometimes, I talk to my husband and tell him what I'm thinking of. Often, he tells me to put in something with a mystery to it (kidnapping, murder, anything with a spy theme to it), and every time, I tell him no way, not my genre. Regardless, he has helped me tremendously with the plotting of all my novels. He keeps me grounded.
As I've previously shared, I've taken writing classes with The Writer's Studio. I cannot say enough about what I have gained in my writing craft with this amazing program. As I noted earlier, chapter three of When I See You was originally a scene I wrote as part of my coursework. The story started from there.
And, it's true, I steal ideas all the time: names, occupations, mannerisms, word choices, scenes, people, places, and things. I'm always on the lookout for the unusual circumstance or name for the plot line of my next novel, so watch out.
What's Next? What's The Best Way To Contact You?
I'm working on my next book. For the latest updates about my upcoming novels, sign up for the newsletter that I send out for novel updates and new releases. Click the bar at the top of this page, if you would like to be notified when my next novel will be out. Look for the various social media buttons on the Contact Page for various ways to subscribe or connect with me.
Thank you for reading my work! If you want to know what you can do, please see the Contact  tab and click on the "What You Can DO" page. Leaving a review that lets readers know what you liked and didn't like about When I See You is always a good thing.