Description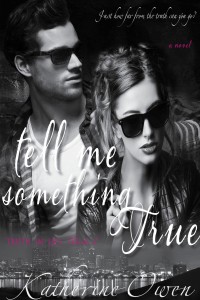 Just how far from the truth can you go?
TELL ME SOMETHING TRUE
The star ballerina finally marries the major-league baseball player and the truth about Linc and Tally—his being her air and she being his water—becomes clear after the couple finally realize that their love is all that matters.
But that was the first day. The day they said, "I do." The day the demons seemed to leave them alone, at least, for a little while.
Nevertheless, there were other days, when all the lies of the past and their ways of coping with their fears caught up to them.
And, this is that story.
"If you believe in fairy tales and happy endings,
and you want to stop right here and bask in the wonderment and joy of it all, please do.
If you want to know the rest of our story, you need to take a deep breath and tell yourself that everything will be okay,
that everything works out, and life happens, and in the end, love is all you need.
Someone has to tell you these things, just like someone had to tell me. All I know is that the truth never dies,  and it does set you free, whether you want it to or not. And in the end? All you have is love. Love is all there is."
~ Talia Landon Presley
"The world breaks everyone, and afterward, some are strong at the broken places." -Ernest Hemingway ~ A Farewell To Arms
They share an epic love but one moment changes everything. A life together that seemed certain is shattered. One learns you never love the same way twice; the other learns what it means to come home. You only think you know how this love story goes, but do you really know how an epic love can end?
---
Author's note: Tell Me Something True is the third book in the Truth In Lies series and cannot be read as a standalone. Please read This Much Is True and The Truth About Air & Water, books 1 and 2 in the Truth In Lies Series, first.
---
TRUTH IN LIES Series Reading Order:
This Much Is True
The Truth About Air & Water
Tell Me Something True
Get your signed copy of Tell Me Something True in 6″ X 9″ trade paperback with a beautiful matte finish.
Please note:  shipping is within the Continental United States ONLY at this time. Price includes shipping as well as tax. Proceed to checkout when ready and pay with PAYPAL.
IMPORTANT: In the Order notes section, please put the name of the person you would like the book(s) made out to.