I believe that all I can do is inspire (or, is that grind?) both my readers and myself in what I construe as reality. Someone has to capture the sad, emotional, angsty love stuff that often collides with fate. It might as well be me. Apparently, I am that writer. ~ Katherine Owen
Katherine Owen writes emotional, romantic literary fare that can be classified as contemporary romance and/or new adult fiction romance.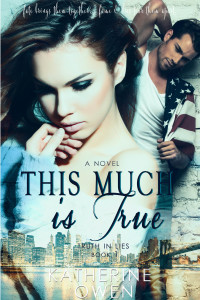 Her 2013 August release, This Much Is True, hit the Amazon bestseller lists and put Owen into a whole new stratosphere as an author. This was Owen's first foray into New Adult Fiction and the book was well received. So much so that readers demanded to read more of Linc and Tally so Owen wrote a sequel to This Much Is True titled The Truth About Air & Water which was released in late August of 2014.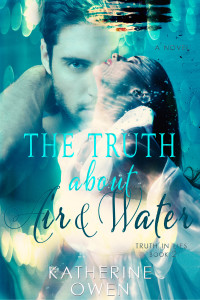 Fan demand had Owen writing a third book about Linc and Tally in the Truth In Lies series, which she released at the end of October 2015, titled Tell Me Something True.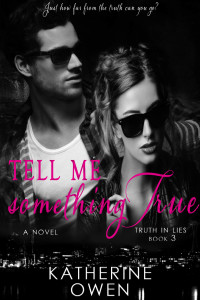 Want to stay up-to-date with Katherine Owen's fiction? Sign up for Owen's newsletter where she does periodic updates about the novels, the work-in-progress, and novel release updates/dates.
NEWS UPDATE:

Up to now, all Owen's novels have been standalone, and readers could read them in any order they liked.

Due to the success of This Much Is True, Owen wrote a follow-up novel which has developed into the series Truth In Lies.  Book 2, The Truth About Air & Water, in the series was released last summer in August 2014.

Tell Me Something True was released in late October 2015 ~ Yes!  And now? The Truth In Lies Trilogy is complete. Enjoy.
Katherine Owen's writing is both dark and moody with the sometimes funny. Still, many of her readers complain they can't put her books down when they start them.
Here's what some readers and/or reviewers have to say about Owen's books:
"…As to the premise of this, it's a really emotional read, that keeps the reader guessing. You literally don't know what's going to happen from one page to the next. There's lies and deceit along the way. It's amazing how other people's interference can impact on another's life. That's exactly what happens here…" L. Sims Top 500 Reviewer Amazon (about This Much Is True)

"…I would highly recommend this book to every fan of masochist reads out there, especially fans of authors like Tarryn Fisher and Megan Hart- I think you will understand this complex & beautifully flawed story and love it!…" Way Too Hot Books Blog (about This Much Is True)

"This is not just a novel, it should be looked at as a piece of art; there are so many layers to peel back. To just read this story would not do it justice, it needs to be appreciated for all the multi faceted layers and symbolism that made this story what it is; a literary masterpiece…" 

Read the entire review for The Truth About Air & Water at this link… Anne Morillo's Reviews – Goodreads

"I am broken by it all. Why doesn't everyone see that? …Katherine Owen doesn't write books. She takes words and welds them together to create an experience that will last a lifetime…"

Read the entire review for The Truth About Air & Water at this link…Chelcie – Addicted Soul's Reviews

"…I knew going into this book that it wouldn't be a heart and flowers type of story. When I See You is emotionally charged and I felt every single moment." The Autumn Review

"…Jordan and Brock have an inordinate amount of bad karma going on…What pulls this story out of the hellish mire it could be stuck in, is this amazing thread of almost palpable hope that winds its way through the narrative…" Dana Burness – Let's Book It (about When I See You)

"…not your average quick-read romance, but a book to be read at leisure so as to enjoy every moment…It touches you…and forces the reader to face many truths; that we have no control over our lives, no matter how hard we try. What makes the difference though, is how we deal with it." Ellen Fritz – Books4Tomorrow (about Not To Us)

"I found this book to be immediately captivating…The initial chapters reminded me of Maggie O'Farrell's "After You'd Gone," that's how impressed I was." Becky Gulc – Chick Lit Central (about Seeing Julia)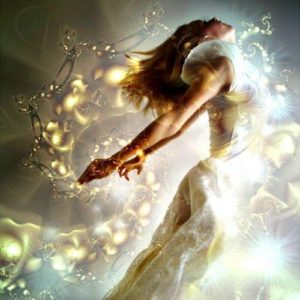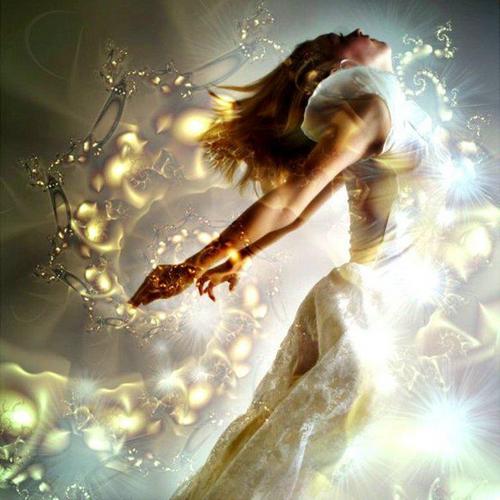 KO in her own words…
Things you may want to know. Well, I'm a control freak. I spend hours on photo sites looking for the right look for my book covers. I seems to know the models and photographers by name. It's part of my Type A personality and tendencies. I like controlling everything to do with my books, which is why I chose to be independent and self-publish. (Some of you may be surprised by that, especially if you've already read my work because my print books are beautiful and awesome. I know! Thank you.)
When I'm not writing, I like to drink good wine or the finest champagne (Tattinger is my favorite) and look at my amazing view of Lake Washington which I rarely see from my basement refuge because I'm always writing.
So.
That's a little about me.
Here's the standard stuff. I am a graduate of the University of Washington with a Bachelor of Arts Degree in Communications with a major in Editorial Journalism and a minor in English Literature. Described as an award-winning fiction writer, I've written standalone novels, Seeing Julia (Zola Award Winner), Not To Us, When I See You, as well as the Truth In Lies series starting with This Much Is True, book 1, and, most recently, The Truth About Air & Water, book 2.
I live near Seattle with my husband and two children where I am busy writing (always writing it seems) my next novel aka the work-in-progress or "the WIP" called Tell Me Something True, book 3 in the Truth In Lies series. I am also planning on finishing Saving Valentines (before the end of the year) for those that follow along with my work and my many broken promises when it comes to deadlines (a casualty of those perfectionist tendencies I'm afraid).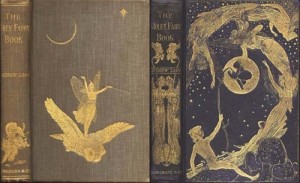 Writerly inspirations to peruse…
For Sale: Baby Shoes. Never Worn. E. Hemingway
He wrote this when challenged to write a short story in six words or less.
Um. Wow.
If you ask me what I came to do in this world,
I, an artist, will answer you:

I am here to live out loud.
English: Signature of Émile Zola. 

– Émile Zola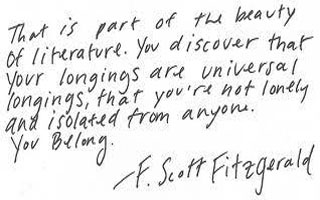 Again, above all, I believe that all I can do is inspire (or, is that grind?) both my readers and myself in what I construe as reality.  
Somebody has to capture the sad, emotional, angsty love stuff that collides with fate. It might as well be me.
Apparently, I am THAT writer.
xoxoxo
KO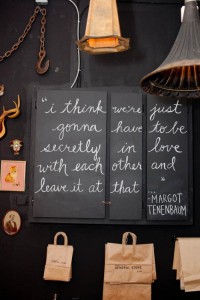 My books are available in print here as well as ebooks here for Kindle/Nook/iPad/Kobo eReaders etc…
Related articles