Description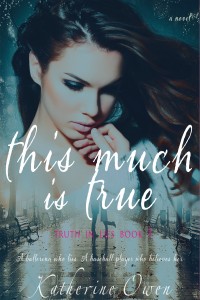 THIS MUCH IS TRUE, (Truth In Lies, book 1)
Both on the verge of fame. A ballerina who lies. A baseball player who believes her. Well, the truth changes everything.
Tally Landon is just trying to survive the death of her twin sister, graduate from high school, and escape her tragic story by pursuing her ballet career in New York. She doesn't count on Lincoln Presley, Stanford's baseball wonder, to affect her at all. Adding him to a long list of one-night stands is the plan. Lying to him about her age and name is her standard method of operandi. She doesn't count on being found out, on seeing him again, or falling in love.
Lincoln Presley's life is all mapped out for him. There is only baseball. With Major League Baseball circling their favorite prospect with a lucrative offer, he cannot afford to mess up. And, he doesn't; until he meets up with the girl he saved in that burning wreckage on the 101 on Valentine's Day months before. By the time he learns her real name and of all the lies she's told, he's in far too deep to ever really let her go.
Get your signed copy of This Much Is True in 6″ X 9″ trade paperback. Shipping within the Continental United States ONLY at this time. Price includes shipping as well as tax for this book. Proceed to checkout when ready.
IMPORTANT: In the Order notes section, please put the name of the person you would like the book(s) made out to.