First of all, let's talk about me and this book…
I didn't plan on writing a second book with Tally and Linc. For a long while, into the fall of last year after This Much Is True's release–I felt fine about where their story had ended. The book was long. Readers got their trilogy all in one book. What a generous soul I am, right?
Then, between the readers asking for more time with Tally and Linc and a writer friend who suggested that expanding that world might be a good thing and who also told me 'everybody who was anybody was writing a series' and along with an epiphany one day about what might work for a storyline, I started writing The Truth About Air & Water.
Side dose of awesomeness…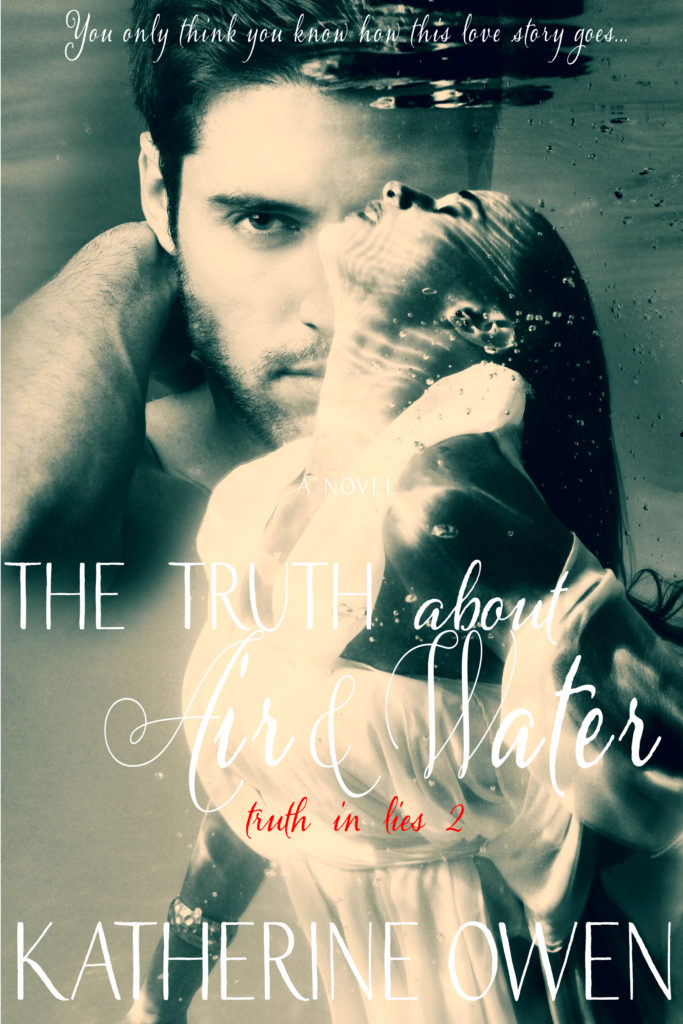 The title for The Truth About Air & Water came to me after sifting through about twenty others; and I did not even get the water reference that Linc made in This Much Is True until I was going back through that first book one day.
Here
Page 289 of This Much Is True
The ending is coming. I can feel it. I don't know if I can take it this time. But then again, I say that every time and yet, every time I take it. And, I come back to her again for more. I will take whatever time I can get with her. I will do that for a lifetime. I will. I know that much about myself. She is my water. I can never get enough of her, and it appears that I will die trying to love her, to keep her, to hold her with me, even though our time together seems to evaporate so swiftly. It slips through our fingers so damn fast that we don't even have time to savor it when we're together.
Cosmic.
It's real; I tell you. That's how the writing process works sometimes on a subconscious level like that.
Anyway, The Truth About Air & Water was hard to write because it's me we're talking about here. Me. Miss Angst herself. I still questioned my process. The writer friend who had been encouraging also busted me for a lack of structure to the This Much Is True storyline and had me looking at all kinds of books on writing as well as films like Aliens and Notting Hill to improve THAT about me and my writerly ways .
And you're thinking what the hell do those two films have in common? Well, you would be surprised to learn it's all related to structure.
Okay, I digress. Sorry.
So. This book was hard to write. Took for-ev-uh. A year. A year since I released This Much Is True.
It really all started coming together in the past two months from getting it down on paper but in the end I finally had an ending I was good with and the story had structure and a black moment and a hero's journey as well as a heroine's and character arcs. Bonus!
I know you probably don't care about any of this stuff but it matters.
Just know that I was feeling a great deal of pressure to make this one BETTER than the last book, which seemed like an impossible feat. I thought about quitting altogether. Just give up writing and go get a real job that actually pays me to show up everyday and be a bitch on wheels in the corporate world again and sell data stuff like I used to. My old clients still call and email me out of the blue professing to miss me, still. Yeah, I know.
But I stuck with it because WRITING appears to be my fucking calling even when only my cat seems to understand that. And lo and behold, I made it through the fire (that's the writing process) to the other side.
So.
On August 23rd, 2014…Was that a Friday? My two #1 super fans reached out to me to ask how the books was coming along. I told one of them that I was 99.9% there and asked if she would like to read it. She was…overjoyed…which was fucking scary in and of itself because now I'd really put myself out there.
And then, my other superfan in the UK was wanting to know if she could do a cover reveal on her blog when TTAWW was ready, and I told her, "look, it's actually almost done; would you like to read it?"
I so wasn't planning on beta readers for this one. I really felt exposed and out there emotionally letting two people on two different continents read The Truth About Air & Water. Not a digression here…. You would think I had it together by now. It's my fifth book, but this one seemed four times as hard as the others and those were HARD.
I consoled myself with the worst case which was this: they'd hate it and hopefully tell me what to do to fix it. That scenario happened LAST YEAR, so I was already semi-prepared for that particular unwelcome outcome to happen yet again. (As an aside…I published This Much Is True anyway, as is, despite that particular beta reader's aka super fan's hatred of the book and the subsequent nuclear fallout of our friendship (when I asked for the whys).
The thing is, in the end, you have to take a stand, and go with your gut for your own work. You do. Sometimes, you are the only one on the train and you leave someone behind on the platform. (That will be a separate post someday when I'm up for it.)
What am I thinking right now?
Hint: Linc and Tally's favorite word. Mine, too, as The Truth About Air & Water attests to.
Even so. People's generosity and time and encouragement is what a writer needs and those special gifts, in the form of praise and recognition and appreciation for the work, come when a writer least expects it.
I have such gratitude.
Onward. Here is what readers of my work are saying after reading The Truth About Water & Water…
THE REVIEWS, THE REVIEWS ARE COMING IN…
"This is not just a novel, it should be looked at as a piece of art; there are so many layers to peel back. To just read this story would not do it justice, it needs to be appreciated for all the multi faceted layers and symbolism that made this story what it is; a literary masterpiece…" 
Read the entire review at this link… Anne Morillo's Reviews – Goodreads
"I am broken by it all. Why doesn't everyone see that? …Katherine Owen doesn't write books. She takes words and welds them together to create an experience that will last a lifetime…"
Read the entire review at this link…Chelcie – Addicted Soul's Reviews
Don't get me wrong, I completely appreciate the fan-girling going on in the above reviews of these two beta readers, but what I love even more is that this book touched two people on two separate sides of the globe in such profound ways.
Bookishly Brit reviews The Truth About Air & Water  "This story made me feel so many different things: melancholic, anxious, frustrated, perplexed, angry and then blissfully happy. It made me cry. It kept me awake the whole night. It was that good…
"…Highly recommended to fans of authors like Megan Hart, Tarryn Fisher  etc. who have a weak spot for  emotional reads…" Way Too Hot Books reviews The Truth About Air & Water 
Chicks Controlled by Books review The Truth About Air & Water  "This is a story full of twists and turns but the author has a knack for making you cry and shattering you then completely rebuilding you. Over and over and over again…"
Lindy Lu Book Review for The Truth About Air & Water  "…and it all goes into an emotional, tragic at times, and dark romance. After reading the first book "This Much Is True" I will say that these 2 stories are gut wrenching at times but in the end you are glad you read them they have an "Epic" love…."
Deb Devita at Bookish said this about The Truth About Air & Water, "Its been weeks since I finished The Truth About Air & Water and just writing this tonight makes me reflect on the characters and the emotion that went into this book. I start to get chills immediately. How am I going to explain to you, the blog reader how much this book will change your life? How am I going to express my feelings when my thoughts are so intense?"
Turner's Antics Book Blog The Truth About Air & Water  "This review may be a little vague, but I don't want to give away the most important part of the book. I was crying more in The Truth About Air and Water; it was just amazing. Ms Owen, you astonish me…"
Books Are Love Blog on The Truth About Air & Water "Thank you for having them need to find their way through hard work and thank you for making them learn what their love is for each other and the journey in them seeing what they mean to each others lives. Thank you for this beautifully crafted story and finally giving Tally and Linc everything in the end…"
Not Everyone's Mama on The Truth About Air & Water  "This was an absolutely amazing read from beginning to end.  I was frustrated, I was angry, I was hopefully, I was heartbroken, I was hopeful again…"
Dirty Girl Romance (probably one of my favorite reviews because I won her over TWICE!)
"That ending was just absolute perfection. It managed to bring a tear even to my cold and black little heart. If you like angsty, emotional, and at times even gut wrenching reads, this is an author that you need to become acquainted with. If even this self proclaimed smut slut can look past the fact that there's basically zero steam because I was so enraptured in the story, it really tells you something.

My only advise? Have lots of alcohol, tissues, and ice cream on hand. PMS has NOTHING on Katherine Owen."
MCG Reviews and Rants on The Truth About Air & Water 
Gel at Bookish Temptations reviews The Truth About Air & Water and their quote photos too! "It was heavy, it was sweet. You'll laugh and you'll definitely cry. There's betrayal, lies and reconciliation. Gosh! You'll feel everything in this story…"
Prisoners Of Print blog reviews The Truth About Air & Water. "The Truth About Air & Water was a beautiful, epic love story that will cause you to fall in love with these characters. I genuinely enjoyed that not only was it about loving each other, but about learning to love themselves too…"
The Book Lovers Lounge reviews The Truth About Air & Water. "The book was so wonderfully written, it will break and put your heart together many times over…"
Crystal's Many Reviews on The Truth About Air & Water. "Lincoln and Tally are a fascinating and addictive couple – addictive to one another and to me. I devoured this book…"
INTERVIEW with New Adult Book Reviews blog about my writing process and The Truth About Air & Water
Beck on Books…and Quilts reviews The Truth About Air & Water
Fathomless Reveries Blog reviews The Truth About Air & Water and gives it 4 Stars
Thank you.
And, let me tell you, the view at the top of the mountain is fantastic.
Now, I know I have to climb down and there's another peak up ahead with Dr. Johnnie McDaniel's name on it and Eve Goodlight is just waiting for me to tell their love story with Saving Valentines; and Sam Wilde is still fresh in my mind and I KNOW he has a story to tell too; but right now? I am feeling mighty fine.
Let's just say I am:

Justified and clarified.
After you read The Truth About Air & Water that little saying will all make sense.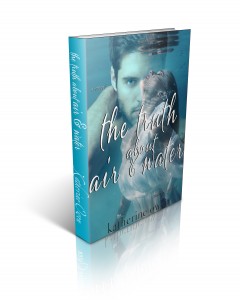 So. why are you still here? Go read my second book in the Truth In Lies series – The Truth About Air & Water.
It can be read as a standalone. It shouldn't be, but it can.
As Linc would say, "do what you must, Princess."
Related articles