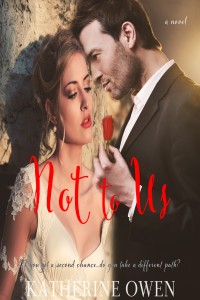 Not To Us From the beginning…
Here's an excerpt from NOT TO US from part of Chapter One – Surreal Things:
There are all kinds of ways for a relationship to be tested, even broken, some, irrevocably; it's the endings we're unprepared for. My life has become a roller coaster ride mixed with equal amounts of pure joy and exposed fear, and, sometimes, this unfathomable incredulity. This arrives in spurts, like adrenalin or injected heroin, well, how I imagine injected heroin would feel. That's when I consider that change—change, its inevitability—is coming. And, I can't stop it. Then, the incredulity comes again. Is this really happening to me? Yes. Incredulity arrives unannounced and jump-starts my failing broken self.
Up until now, I've had the audacity to consider my life perfection. I married my college sweetheart, Bobby Bradford. I've borne three gorgeous kids with him. I live in a grand house on Bainbridge Island and indulge in an editorial career for a successful New York publisher. Respected, beloved, that's me. Everything in my life rang true and perfect, until the day at the Four Seasons, three weeks ago. After that day, I look at what I once thought of as my perfect life, and discover the foundation is, literally, breaking down, disintegrating all around me with each passing day.
I'm watching the B-action movie of my life. I'm the damsel in distress caught onboard the runaway amusement park ride, careening out of control, going faster and faster. I can't control the action any more than I can write the script. Let alone, direct it.
And, I'm the heroine already slated for trouble. Or worse.
It's been three weeks of bad movie scenes—my life spinning out of control in absolute silence. I don't say anything. I don't react to what I know to be true. I just go through the motions with my ever-predictable life script, fighting the ever-growing panic, and acknowledge I'm going to have to do something to save myself. Soon.
≈ ≈
Besieged. I sit in the office chair opposite of Dr. Michael Shaw, anticipating a reprieve from more bad news. I've had enough bad news for a lifetime already in just the past three weeks. I play at normal in the starring role as Ellen Kay Bradford—the one I've played for over eighteen years.
I'm giving Michael one of my winning, former-University-of-Washington-cheerleader smiles and watch its predictable impact play across his golden features with his captivating smile in return.
We exchange pleasantries, back and forth, in his medical office for the first five minutes—reflexive banter—about the kids, Robert, Carrie, what the plans might be for Thanksgiving, and Christmas, and back to the kids, again. They're fine. Great. Fine. Great.
Finally, he takes a deep breath and closes his eyes for a brief moment, and then, opens them, again, and just looks at me.
"The biopsy shows malignant cells. You have cancer, Ellie," he says in this let's-look-at-the-bright-side, manly voice, though I hear it tremble. "Stage two, aggressive, treatable, but we need to move fast."
His words cascade down on top of me like unexpected rainfall. I actually start to shake as his diagnosis begins to resonate with the working parts of my brain. This isn't happening. This can't be happening. I try to form my brightest smile, but I can't make my face work.
This isn't happening. Not to us.
I'm getting my bad news mixed up. I'm not making any sense. I'm just sitting here, looking at him, trying to find some sort of silver lining in all of this. This unraveling of my life. This fucking roller coaster ride. This god-damn ride I want to get off of now. God damn it. I sit silent. Searching for perfect control, I finally form a smile for him. I'm waiting, waiting for the punch line.
"This is a joke, right? You just didn't tell me I have cancer, because, frankly, if we're being honest, Michael." My voice wavers. I try to smile again, but can't quite make it work. "I've got enough shit going on right now."
"No."
I can't find any solace in his tone. I shift in my chair and just look at him. We've known each other for almost twenty years, since the days at the University of Washington, when all four of us had been sophomores in college. I've seen him naked a half dozen times, in those innocent moments, when we had all gone camping together, drank too much, and let strip poker go a little too far. He is my best friend Carrie's husband. He is best friends with my husband, Robert. My friend, even.
And, yet, in this moment, all I can think of is that there is worse news than this—worse news—that I will eventually have to tell him. My resolve gives way. My eyes betray me, first, and fill with tears, not for myself, but for Michael.
"Ellie, it's going to be okay," he says, misinterpreting my tears.
"Not really," I say. Breathe. "There are worse things going on."
His handsome face immediately changes to anguish. He knows.
"When did you find out?" Michael asks in a distant voice.
"Three weeks ago." I clasp my hands together. "You?"
"Three months ago."
He gives me a wry smile. Then, he gets up from his office chair and promises to be right back.
"Come on, Ellie," he says, when he returns. "Let's get out of here."
≈ ≈
Sitting in Michael's car, an ostentatious, black Lexus SUV, ensconced in the riches of onyx leather, all my senses are quietly being assaulted by the smell of his cologne. I covertly glance over at him. Even in profile, he is handsome. Always has been goes the errant thought in my head. It's too bad I married Robert Bradford; Michael Shaw would have been better for me.
"Where are we going?"
"I haven't thought that far, yet," he says with a flash of his white smile.
Again, I feel this attraction for him. What the hell is wrong with me? This man is my husband's best friend. He is my best friend's husband. He is the godfather to my sixteen-year-old son. And now, he is my surgeon. It's apparent on this rainy day in October that, perhaps, I should have gotten a different surgeon, a different opinion. I certainly didn't like what this doctor, this friend of mine, had to say, but Dr. Michael Shaw is the best. And, Carrie had insisted.
Carrie. I love Carrie. She's been my best friend, since our freshman year in college. It's hard to believe that she and Robert have become involved. I wrestle with all of these competing thoughts, while sitting in Michael's car, consciously acknowledging that I like his cologne and his profile. Maybe, Robert and Carrie's liaison was as simple and innocent as this. Maybe, one day, Robert told Carrie that she had cancer and their love affair had started on such a simple premise.
Cancer. I have cancer. No, that's where the similarities between Carrie and me end. I have cancer, she doesn't. I'm crying, again. Michael reaches over and takes my hand in his.
"Ellie, it's going to be okay," he says.
The gentleness in his voice is my undoing and I slide across the seat to be next to him.
"Really, Dr. Shaw? You think so?" I give him a weepy smile.
I should be devastated right now, but there is this overwhelming feeling of longing at Michael's touch. I should be scared out of my mind, but Michael makes me feel wanted, safe.
#
*Copyright © Katherine Clare Owen 2011
BUY Links here.