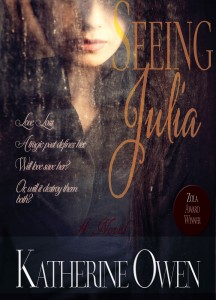 Seeing Julia – A Love Story
"Here's what I know: Death abducts the dying, but grief steals from those left behind."
Tragedy. Heartbreak. A decade of loss defines her, but an illicit connection to a stranger saves her, yet leaves her questioning her past, her life, and herself, most of all.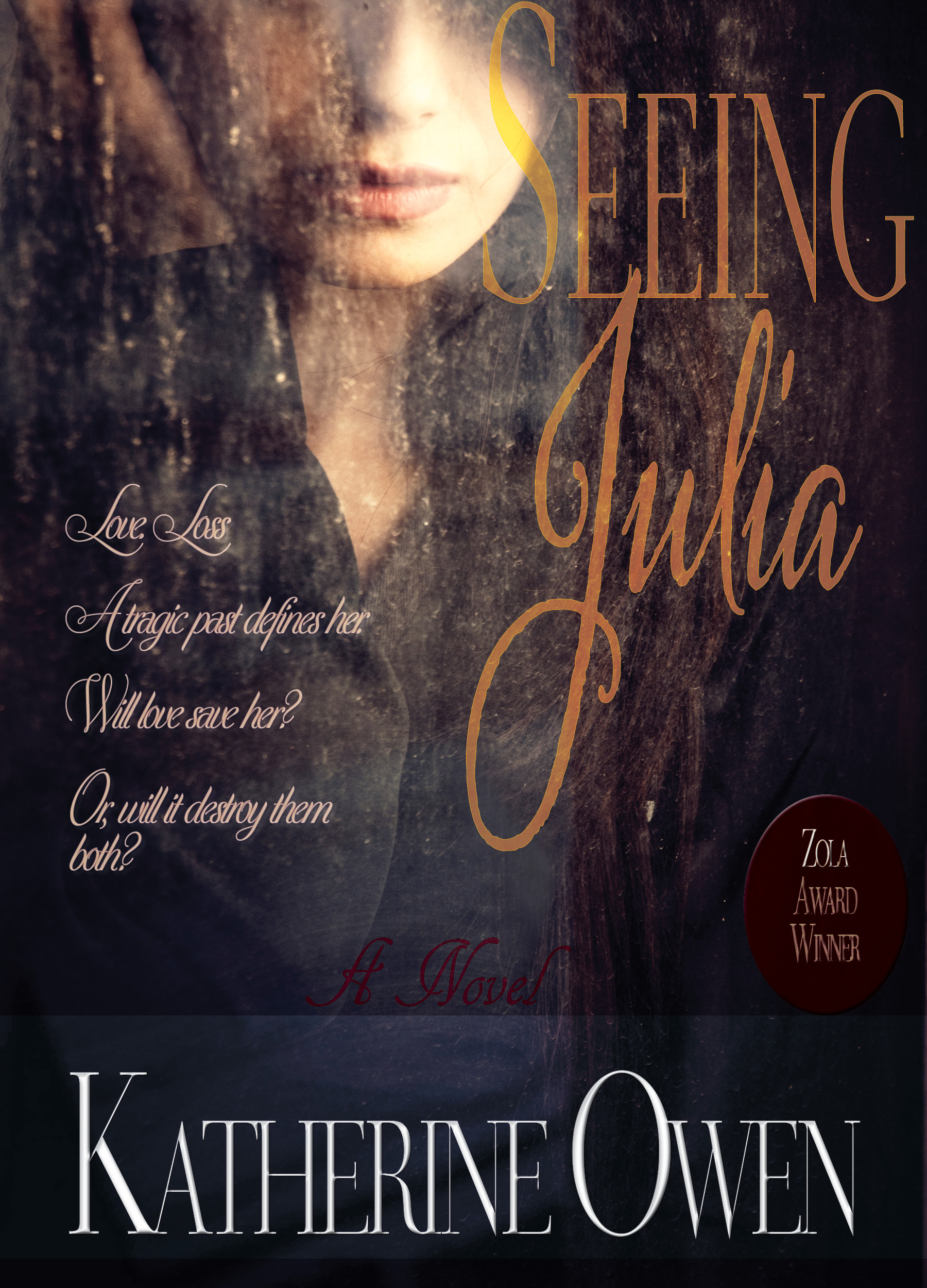 SEEING JULIA Overview:
She's at the precipice of her life, looking over the edge and seeing nothing. He saves her from herself. The connection between them stirs something deep inside of her that she thought she had lost long ago. Now, she questions her ability to start over without looking back and wonders if she can move on if it means letting go of her past–a past that seemingly still defines her.  And, if she can't even see herself, how will others ever see her? She has…so many questions and holds on to so many secrets, but soon she must confront the truth about her life, about herself, in order to be set free.
Excerpt: Chapter Four of SEEING JULIA*

"I remember glancing down at Reid and seeing his one-tooth gaping grin, pure joy just emanating from him that day. And, I remember thinking, where does it come from? I reached out and touched his face and said it's going to be okay. I told this lie more for myself than Reid. I said what everybody says to you in a time of crisis. His baby-like sounds seemed to reach at me from so far away, already." I turn back from the window and lean up against the sill and inspect the room, trying to discern its magnificence.
"There were these seagulls, just calling, cooing, whatever the hell it is they do. These seagulls flew overhead in frenzied formation, diving, seemingly spying at the unexpected activity. They flew away all at once, disturbed by the building crescendo of unfamiliar sounds, I guess. I kept wondering, why do they do that? Are they frightened? God damn birds." I take another unsteady breath.
"So, I stood there in the pouring rain, held my hand over Reid's face, so he'd get less wet." I look at the good doctor in this conspiring way, acknowledging the futility in that action. "Then, this state patrolman came over to me and said. "Lady, you're going to have to step back." He's tall. Tall like Evan. Broad shouldered, steady, and safe, just like Evan. I remember his face. It was so grim, already undone by the reality of being up close and witnessing…the unthinkable. I remember trying not to look at him, but I did. I couldn't help it. The look on his face. It still haunts me."
I push off the ledge of the window sill and step to the center of the room.
"So, I say, "That's my husband and pointed toward the Porsche. He's late. He went to the store about an hour ago." I remember holding out my wrist to the officer. My Seiko watch glistened in the pouring rain. The gold watch—the first gift Evan ever gave me."
I take another unsteady breath and look over at the doctor. He just nods, encouraging me. "Evan told me he could hold time in his hands." I smile at the memory. "And, when he opened them, there was this beautiful Seiko watch for me. He promised to love me forever. Forever. Time," I say slowly. "Fuck." I shake my head and grimace at the good doctor in silent consolation for my swearing. He just inclines his head again. "Sorry."
"Go on."
"I remember the officer glancing at my watch, and then, back at my face. "You should sit down," he said. His voice held such consolation. It was the same kind of voice my mother used when my cat Seraphim, died. I was ten. The end of a ten-year-old's world, when the cat dies."
I try to smile at my weak effort for contrived humor. Dr. Stevenson tries to smile, but it doesn't quite work. He looks as devastated as I feel.
"I remember thinking, and this? This really is the end of my world. Lot more than a damn cat."
I lick my lips and traipse back to the window again and stare out at the gloomy semblance of daylight in the middle of December.
"I remember the sound of a saw distracting me, then. It made this whirring sound like a bee does when it's pollinating flowers. Not an it. A he? I'd asked the state patrolman about that. "There's the queen bee and then all the other bees are he's, aren't they?" I nod my head, remembering. "He'd answered, "Mostly he's, I believe." I remember his arm sliding through the handle of Reid's baby carrier and how he held on to me with his free one."
"I'd said to him, "You rhyme." I remember trying to laugh. "Mostly he's, I believe. That's good."
I glance over at Dr. Stevenson. His pen is poised in the air, he seems frozen in the moment, dismayed by my awful story. It appears that I have broken through his impenetrable shield where he constantly emulates that everything is going to be okay.
"I remember just nodding my head up and down like it wasn't attached to my body any longer. My head was just pounding, pulsing out of control, just like my heart and lungs, with all this extra energy I no longer knew how to expend. I took in the scene like a gaping teenager as if witnessing my first horror film, wanting to scream, but willing myself to keep silent. I slept with the lights on for weeks after that movie. And, I remember thinking I may have to employ that technique again."
I turn back from the window.
"The thing was, I knew, even then, I was saying goodbye to happiness. I felt it seeping away from me. Gone forever. Just this feeling of suspended disbelief. Suspended disbelief. You know, the feeling you get, after you've cut yourself, a silly accident where the carving knife goes astray. You're cutting tomatoes and then you've cut yourself. It's stupid, really. And, you stare down at your finger, and before the pain starts, you watch the hint of blood ooze from sliced skin, then in the next instant, it's everywhere. The horror of spurting blood that can't be stopped. The horror takes hold and then the pain comes."
I pause, take another deep breath, and glance over at the good doctor. He just regards me with those grey eyes of his, too much like Evan's, takes notes, and watches me.
"I said to the officer. "It won't be stopped. Will it? The happiness is really gone forever. This pain is never going to go away. Is it?"
"You should sit down," he'd said back to me and asked me my name."
"I'm Julia Hamilton," I answered. I remember the sparks flying as one of the fireman wielded another saw and cut through the metal from the other direction. All the firemen exhibited this desperation, their faces contorted with stress and recognizable fear. And, I kept wondering; does mine?"
#
This is the end of the excerpt from chapter four for SEEING JULIA.
* Under copyright © Katherine Clare Owen 2011
Want to read it? SEEING JULIA is available at these online retailers as a trade paperback ($15.99 USD) or eBook ($4.99 USD) where discounts may be applied.
Are you located internationally? Try The Book Depository where shipping is free for most countries. W.H. Smith's (UK) in paperback.
Related articles