Simple is.
Simple does.
If you've stopped by my website before, you must be stunned at its newest simplicity. I still have the fancy theme going on with pages that slide out and photographs galore – all this dark, edgy stuff – like the books, but it's easier to navigate!
It's 2013; and, like so many things that I've dared to set a resolution to, making things simpler tops the list.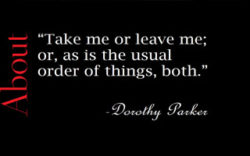 My brother (younger, of course) has told me that I need to get over myself and let it all go, in the sense that I need to dispense with all this angst and just get on with it. I've been struggling with my writing mightily and he counseled me during a New Year's Eve philosophical night, where Jägermeister and Jack Daniel's were involved, that I just need to move on. Stop was his singular command. Just stop.
So simple is as simple does. Starting here with me. My writing. This website. You came here to learn more about me or my books. I've made that fairly easy, now. If you want to get down into the weeds about the story lines, visit the Discussion Session. If you want to connect with me in some way, check out the About page and Stalk Options (See? I can be funny.)
Simple is.
Simple does.
Enjoy! Thanks for stopping by and/or reading my novels.