Ereader News Today featured When I See You as a Bargain Book yesterday (and, she still is…)
So. She hit #1 on the Kindle Best Sellers List for American Drama (an eclectic category from Shakespeare to contemporary – think of the island of misfit toys only in the liteary sense of stories) early this morning and beat out the likes of The Forgotten Child and Salty: A Ghetto Soap Opera (Drama In The Hood) which I admit not having read, but they've been hanging at the top for a while.  Long sentence there. hee hee!
Additionally, When I See You hit #34 for Women's Fiction in Books – Contemporary Women. Yes!! (See second photo capture).
I'm smiling. It's cool. It won't last too long, much like the Ferris wheel ride at the fair eventually has to end. Oh yes, I know, it's terribly exciting, but then, there's that quick rush–the downward spiral– below.  But wow, just wow! It's really exciting to be on top (in the literal sense, people). I'm thrilled. Here's the photo capture of the #1 spot. Now, I can cherish the accomplishment long after the spotlight is turned off.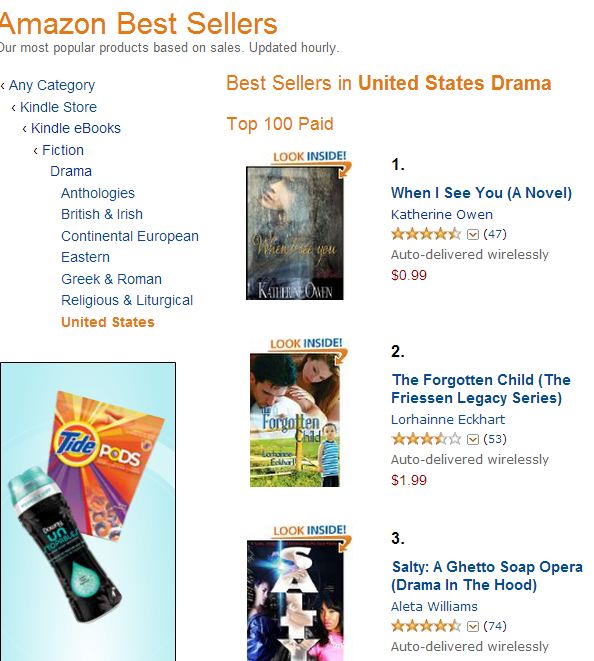 Amazon Best Sellers Rank: #483 Paid in Kindle Store (See Top 100 Paid in Kindle Store)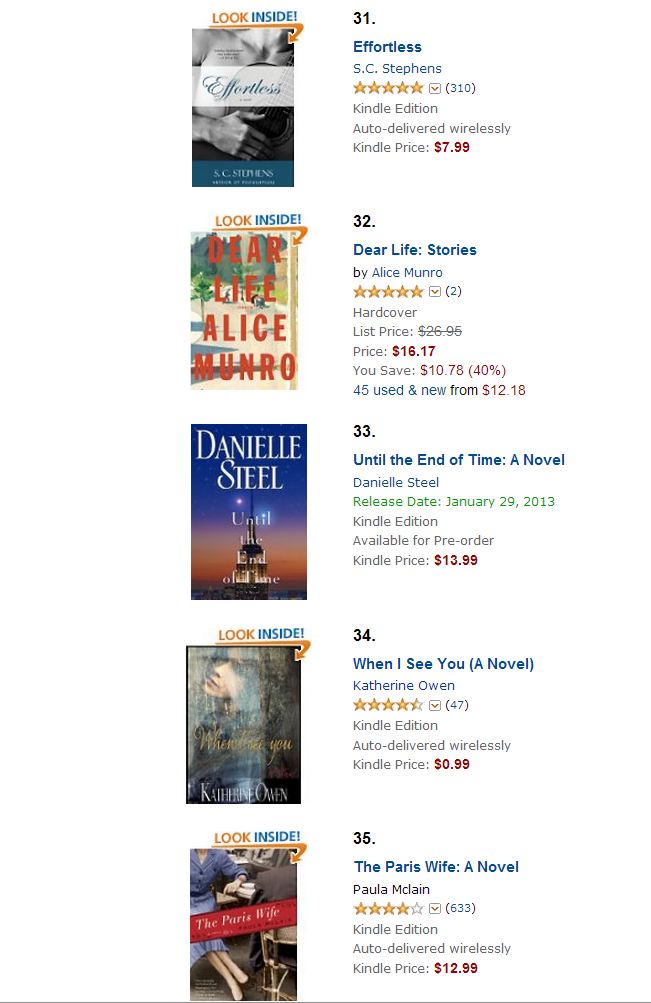 Yes! That's my novel hanging out with Danielle Steel and Alice Munro and Paula Mclain (of The Paris Wife fame)
I just want to say thank you to all my readers of all of my novels and welcome to all the new ones who just purchased this one. You're the best! Then again, you knew that already.
xoxo
KO
Is this post getting too long? Why yes, yes it is! Think of Reese Witherspoon in Legally Blond when she says: "They picked me! Me!"  Love that movie. Love Reese.
Okay; I'll stop.