True story.
I searched forever for a book cover for This Much Is True. Sometimes, I think it took as long to find that cover as it did to write the book. For sentimental sake, here is that cover. It's still available for the print version.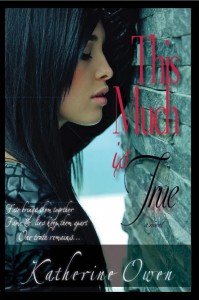 So, since it took so long to find the original cover, it's crazy that I would change it; isn't it?
I know, I know, I know. Just know, for the most part, the book has been well received over the past several months since its release. However, a few reviewers have commented on loving the book, despite the cover. Hmmm…. I always thought "Tally" staring at a brick wall denoted that moment quite well at the baseball park when she first sees Nika Vostrikova and the interaction that Russian girl has going with Linc. Obviously, there's some history there. It's Tally's first moment of despair in connection with Linc. But, as we know, there is so much more to their story.
And, as everyone who follows me knows, I have a tendency to change things up. There is freedom in doing all of this yourself. I am the first to take advantage of that. There are reasons for re-doing something if it's not quite right. Or, you've followed an evolutionary path and things progress. Things change. Ideas evolve.
People change their minds.
Even me.
But before I get into the nuances of the new ebook cover, there are a few things to take note of with this novel. Things to celebrate. Things to call out as a milestone. This much Is True reached best seller status in September 2013. It got to #108 in the Amazon Kindle store U.S. and #56 in the Amazon Kindle UK store. This is a huge feat. The book has managed to stay on various Amazon best seller lists for the past six months in the U.S., the UK, and Canada. It's also been a best seller on iTunes for various foreign stores. How cool is that?
International best seller! Say it with me.
I've kept the introductory reader price at $0.99 for a long while because I really wanted this novel to reach as many readers as possible. That way more readers new to my work would be willing to take a chance on it. Most readers love this book and 148 five-star reviews on Amazon are testimony to that.  Amazon's UK readers also seem to enjoy this novel. This Much Is True carries a 4.6 star rating over the pond. Yay, UK!
So.
The cover.
JUNE 2014 Update. OMG, make up your mind, KO. More five star reviews dissing the girl staring at the wall cover. Thinking ensues because The Truth About Air & Water needs to match and this girl staring at the wall is a one of a kind photo. Different direction pursued entirely including photo tests on Facebook with advertising. Yah, I do that.
This one came out the clear winner. And there you have it, dear readers, an updated book cover for This Much Is True as part of the branding effort of the series Truth In Lies which led to ebook cover updates for three of my novels, including Seeing Julia, Not To Us, and This Much Is True. Go big or go home, right? Luckily, all that effort has led to a fantastic cover for the soon-to-be-released The Truth About Air & Water. Yay!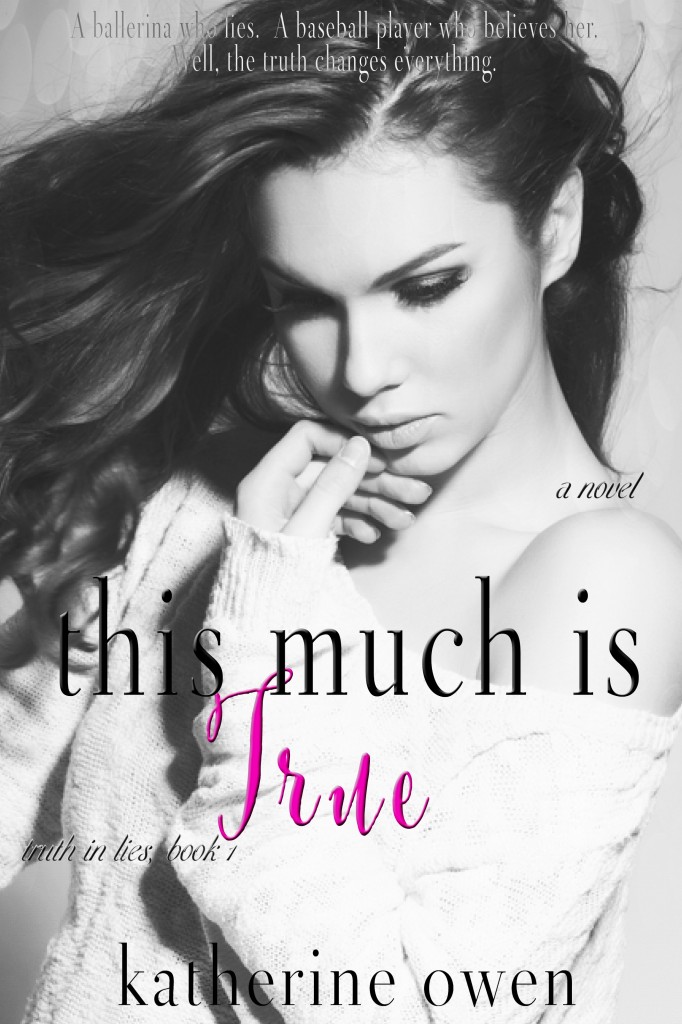 April 2014 – slight update. Nuances. I went with the black and white one (see below) and spent numerous hours on it, but it just didn't work for me after a few weeks. Not like the one where Tally is leaning hopelessly against that wall. Sorry for my flightiness/uncertainty/proverbial writerly angst. It comes with the territory of being me. You would think, after all these years, I would know by now to go with my first instincts with a decision and not my fifth, sixth, or seventh one…but, no.
Thank you for your understanding. xo KO
Here's the previous ebook cover with only minor tweaks.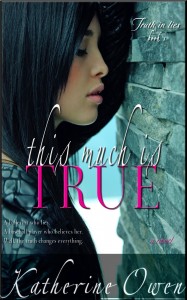 I think we've needed Linc on the cover for some time now, but I didn't want to lose the vision I had going for Tally originally. After an intensive search, I found these two almost perfect stock photos depicting these two characters. And, with the magic of Photoshop and my skilz, I hope you like what I've done with this new cover.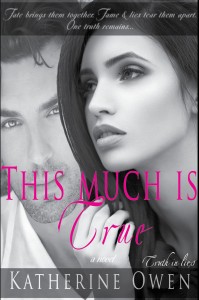 A couple of things about the new ebook cover look for This Much Is True.  things I was going for with this one. Life is never black and white; is it? And yet, black and white appears to be how these two see life  when they first meet. It also tends to be how they view themselves. I love that subtle concept as depicted with this new book cover. Discuss.
This one with Linc and Tally didn't work for new readers.
In other news, I'm going to keep the price on the eBook low for a  little while longer and then it is finally reverting to its regular price because I can't virtually give it away forever.
Additionally, I've stated this in several places, but everyone gets busy so you may have missed this news. I'm writing a sequel to This Much Is True. It will be the follow-on story of Linc and Tally and I won't say much more than that. Enough of you have asked for more and I came up with a storyline that will make the second book just as intriguing as the first. Look for  The Truth About Water & Air this summer 2014.
Lastly, I want to thank so many of you (bloggers & readers) for embracing my books and encouraging me to keep writing. Your responses to my work make it all worth while. Thank you.
P.S. If you want to be one of the first readers to hear about the next novel release, sign up for my newsletter (click the black bar at the top of the page to go directly to the sign-up form). Or, follow me on Facebook where I provide somewhat regular updates on my fan page there about the books and the Work-In-Progress.
Thanks!!